An Inclusive Playground for Rotary Athletic Park
The focus of this playground is an interactive area for children of all abilities between the ages of 2-
12 years. The playground is designed with varying challenge levels while promoting social inclusion and active play.
Included in the design are a number of wheelchair accessible activities, sensory panels and musical elements. The surface is poured in place to provide accessibility for wheeled mobility devices.
The swing area includes an Accessible Swing and a Hoopla Swing that offers Level 1-3 challenges and allows children of all abilities to play together. The play panels on the border of the swing area provide tactile sensory play at ground level accessible by all children. Added to the swing area is a mixture of outdoor musical instruments.
The Unity Teeter Tunnel offers a safe, cooperative play element as more than one child may participate. Children who use mobility devices can transfer from their chair onto the centre of the Teeter Tunnel.
The Unity Canopy offers traditional overhead climbing and provides Level 3 challenges for those children looking for more challenging play activities. Cleats on the poles of the Canopy make it easier for children who don't have the upper body strength to swing across the length of the entire structure.
The Small Play Structure is perfect for younger children or children with disabilities who are looking for an easy sliding and climbing activity. Some children may not be ready to take on the thrilling sliding and climbing found on baseball glove.
The playground is one we can all be proud of, and in time Rotary Athletic Park will become known as the sports field with the coolest playground!
Playground Elements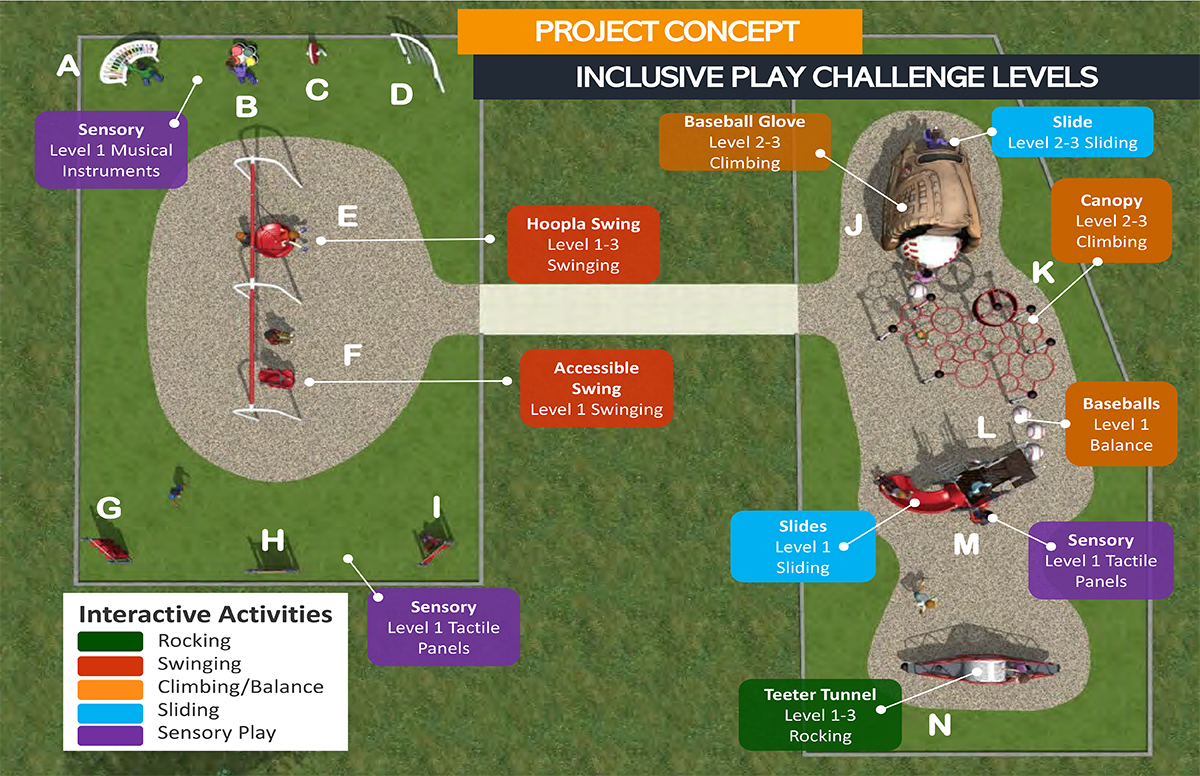 Vibes (A)
Fourteen colorful chime bars are tuned on the traditional seven-note scale, creating accurate musical tones and enabling you to perform real songs. When struck with the attached rubber mallets, the Vibes give off a full, sustained note. An angled design allows all children to join in on the music making.
Congas (B)
Just like real congas, the sound will vary depending on where you strike the drum head and have little reverberation. Because they are different diameters and lengths, they will each have a different tone. The smallest blue drum has the driest, crispest sound, while the largest orange drum has the warmest, fullest sound. All drums are set at an angle that lets people of all abilities keep the beat.
Casaba ( C)
Shake, rattle, and roll! A cross between maracas and traditional cabasas, this musical product makes a metallic rattling sound when spun and changes as you move the drum back and forth. Angled forward, the Cabasas enable people of all abilities to engage in the rhythm.
Chimes (D)
The Concerto line of outdoor musical equipment allows children of all abilities to experience the joy and benefits of making music. For children with visual impairments, they get an opportunity to explore musical sound through their physical actions. Musical instruments provide tactile exploration and stimulate creativity. The tap of a drum or  chimes creates stimulation in our brains. For years, musical therapy has been used to stimulate speech development and communication skills, help children express their emotions, and create an opportunity for socialization and fun.
These large diameter tubes produce a deep, powerful, and resonant tone you can hear and feel. The 8 chime tubes are tuned to the traditional music scale. The harder you strike with the attached rubber mallets, the louder and longer the chimes will sound.
Hoopla Swing (E)

The Hoopla swing invites children of all abilities to play together! The small handholds on the outer edge allow for kids to fully grip on tight. Also, great play value is gained by kids being able to sit sideways while they swing, rather than just to and fro, giving them a unique swinging sensation.
Accessible Swing (F)
The seat is a rollercoaster-style safety harness that lifts for entry and snap-fits into place between the child's legs for security. There are no complicated belts or buckles. Sturdy and strong, the seat is loadtested to up to 750 lbs (341kg).
Tic-Tac-Toe (G)
Promotes hand/eye coordination and builds dexterity. Kids will love this classic fun game!
Spin Racer Panel (H)
Promotes cognitive development and encourages social interaction. Three car-shaped sliders allow kids to slide them back & forth. Children take turns spinning the dial and moving their car until one of them crosses the finish line.
Animal Locator Panel (I)
Two-sided panel promotes animal recognition. Builds attention spans, cognitive thinking and self-confidence. Encourages curiosity.
Ball Glove (J)

This unique ball glove stands at 8' 7" high and is sure to create a WOW to all who see it. There are a number of climbing opportunities on the outside of the glove, while the inside provides a level of safe risky play where kids slide down a tunnel slide in the middle of the glove. The climbing provides a great opportunity for kids to strengthen their upper arm muscles while the sliding provides an element of risk some kids crave!
Unity Canopy (K)
Inspired by traditional monkey bars, Unity Canopy is designed so the child has a feeling of achievement every time they play. Climbing cleats help everyone get started. The non-linear canopy provides options for many different climbing paths.
Balancing Baseballs (L)
Balance elements like the small baseballs provide much more skill development than we give them credit for! Not only do they encourage balance and coordination skills for older children, for younger children or children with mobility challenges, they offer valuable climbing opportunities.
Toddler Play Structure (M)
Lots of fun to be had on the small play structure. Great for young children or older children with disabilities. The 90-degree slide is great for introducing sliding and the Ribbon climber is a great introductory climber. The Transfer station makes it easy for children who use mobility devices to get onto the structure. Additionally, the structure includes play activities like the Post Mount Wheel, Bell Panel and the Bugs Panels. Great for some added sensory play!
Teeter Tunnel (N)
The cheerful shouts of the kids will make you think you're at the amusement park! Unity Teeter Tunnel engages core muscles and encourages socialization and cooperation as kids learn to work together to go up and down. Unlike traditional see-saws, many kids can participate at once - stand, sit, lie down, or hang out in the tunnel while your friends push.
Photos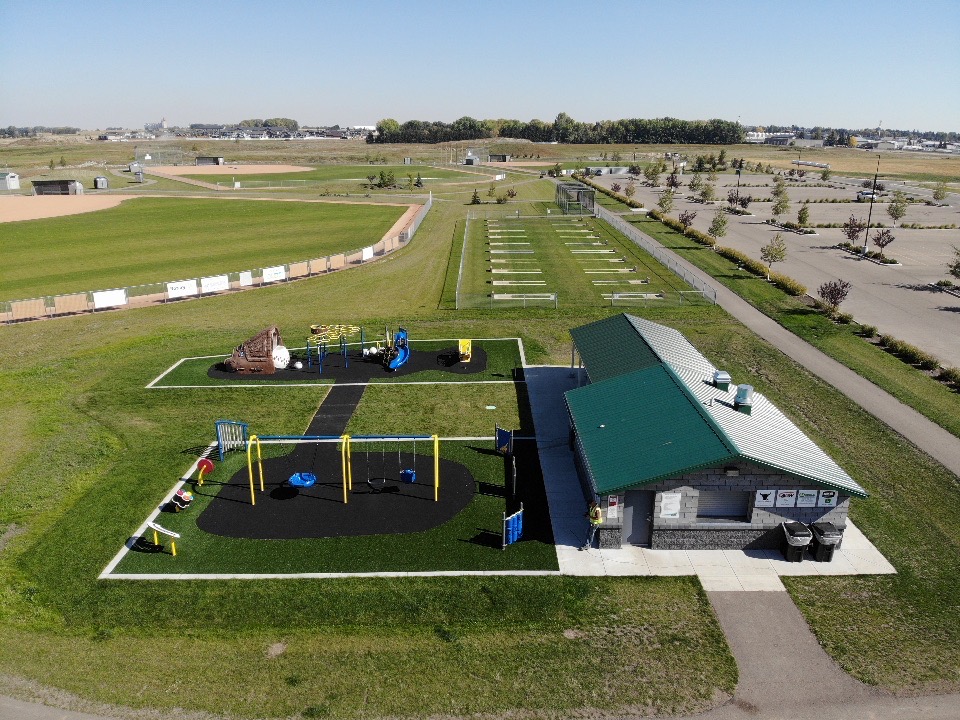 Location of Playground