About Cornerstone Art Commons
Cornerstone Art Commons, located at 46 Street and 65 Ave, is a meeting place for the community to come together to enjoy art in the outdoors. Large 4X8 panels display 2D art created by the community for the community. These works are meant to be temporary exhibits that will periodically change as other members of the community create new works of art for display. 
Conversations about Cornerstone Art Commons with Springwood Developments  commenced in January of 2016 regarding a "sculptural element for the entrance-way" to the new Cornerstone commercial development.  Thanks to funding received from Springwood Developments, as well as their inspiration, the creation of this area was made possible.
Feature Art Piece
A feature art piece will also be on exhibit at the Cornerstone Art Commons.  There is currently a dedicated area for one of the Bergen Rocks - stone sculptures - "Spring" by Jiang Chu of China - to be on temporary display.  At the conclusion of this exhibit, the community may wish to purchase the sculpture or replace it with another temporary exhibit take its place.
Cornerstone Mural Project
In the summer of 2019, the Town of Olds commissioned local artists to create murals for temporary display at the Cornerstone Art Commons. The artists were inspired to create murals that shared stories of Indigenous heritage of this area.  Elders were consulted to work with the artists to share cultural teachings and offer their blessings for this work.  Thank you to Elder Doreen Bergum, Métis Nation of Alberta, Region 3, Elder John Sinclair, Elder Lance Scout, Kainai - Blood Tribe, Elder Pamela Lashmore and Knowledge Gatherer Scott Lashmore for their knowledge, kindness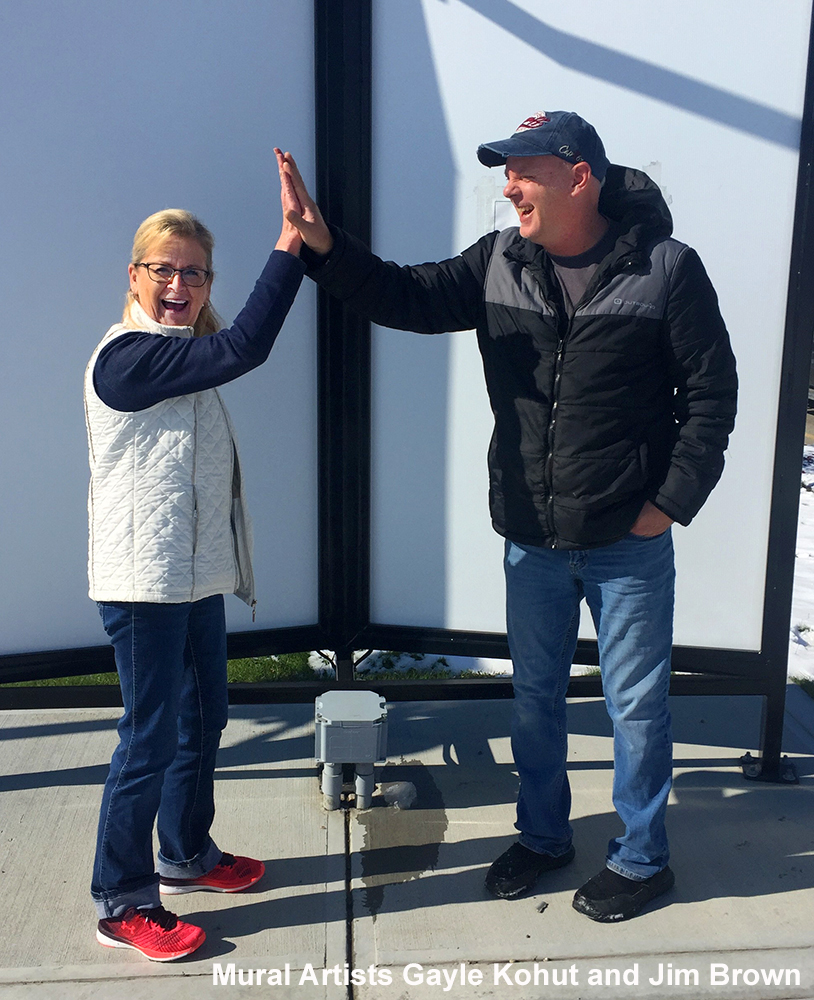 and generosity.  Artists, Gayle Kohut and Jim Brown, approached this project with open minds and open hearts while sharing their tremendous talent. Thank you to the Town of Olds Public Art Advisory Committee for their support and assistance throughout this project.  Through the relationships created in the process of realizing this project, the stories that these murals share are authentic, culturally accurate and sensitive, and 
exemplify the community-building power of the arts.
The Town of Olds is on the traditional territories of the people of the Treaty 7 region of Alberta which includes the Blackfoot Confederacy (Siksika, Piikanni, and Kainai First Nations), as well as the Tsuut'ina First Nation and the Stoney Nakoda Nations (Chiniki, Bearspaw and Wesley First Nations), and Métis Nation of Alberta (Region 3). We acknowledge all Nations - Indigenous and non - who live, work, and play on this land, and who honour and celebrate this territory.  
Cornerstone Art Commons Location
Cornerstone Art Commons in located at the intersection of 46 Street and 65 Avenue near the Shell station.