Covid-19 Arena Guidelines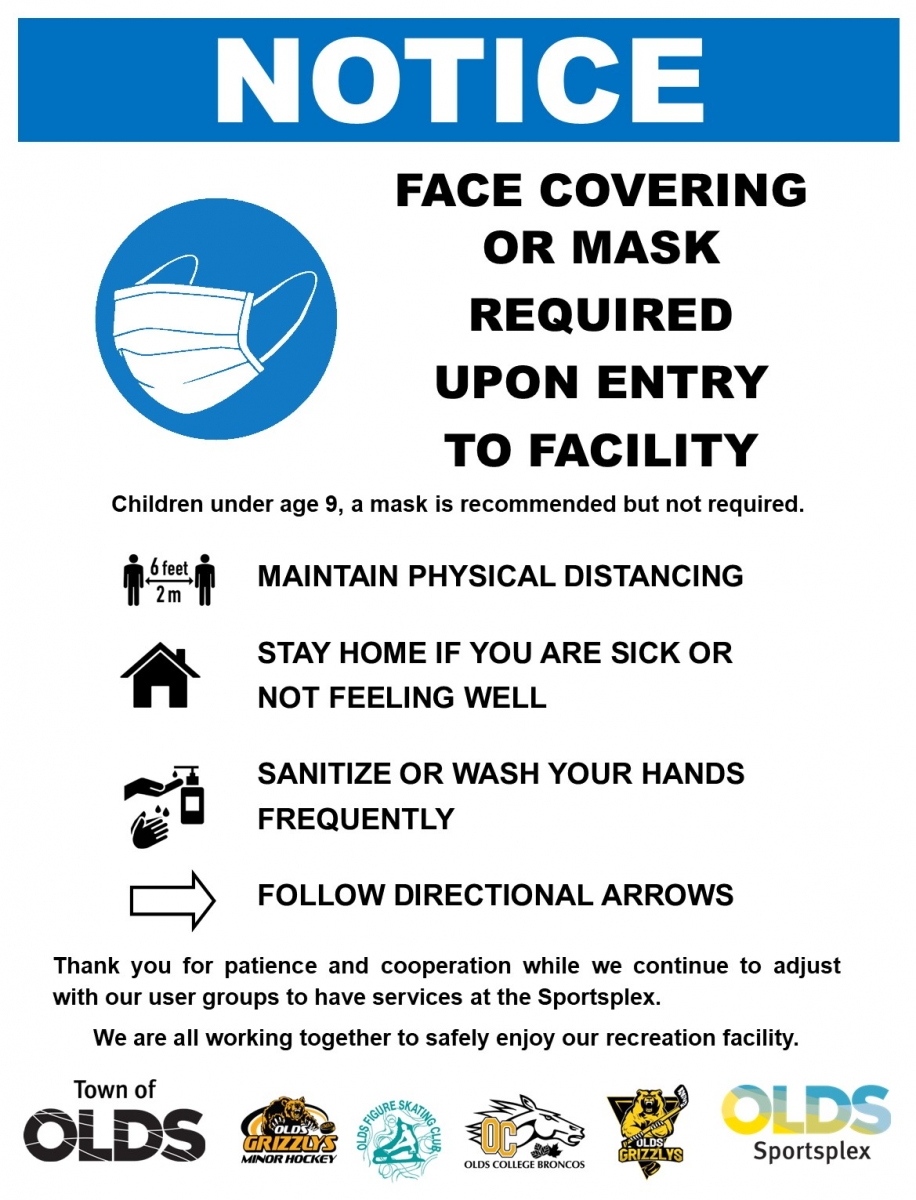 We have been working with our Primary User Groups to coordinate how we may run programing in the arena during this season. We believe this will provide all users the opportunity to run the activities as we phase in opening the fall-winter schedules. However it will not be 'business as usual' as we will have some restrictions in place and we may need to adjust regulations and timelines as we procced.
In order to safely and effectively utilize the Sportsplex we are immediately implementing the following:
2020 – COVID-19 Arena Guidelines and Information for bookings
1. Face coverings must be worn upon entering, removal only when participating in physical activity on the surface.  Children under age 9, a mask is recommended. 
2.  Participants are recommended to come dressed and ready for their activity.  Rooms will be provided for participants. 
3. Arrival Time:  do not arrive more than 15 minutes before your expected booking time and please leave the area within 15 minutes after your booking time to exit the building. Do not use the showers. 
4. Please follow directional signage in and out of the buildings.  Entrance doors on the West side of the arena.
5. Regular sanitation of commonly touched surfaces will be performed throughout the day by facility staff. 
6. Please encourage participants to bring and use their own hand sanitizer, but stations will be setup in the arena.
7. There will be no tables for use for meetings or eating in the arena.
Rapid Response Plan for Symptomatic Individuals: 
In accordance to Alberta Health regulations, attendance of all participants must be kept for two weeks for public health tracing.  Please ensure you have these records in case they are required at any time.
All user groups/rental organizers will be responsible for ensuring their participants observe facility rules and Alberta Health regulations/guidelines and are reinforcing the message of physical distancing. 
All user groups/rental organizers are to be able to produce to a public health inspector, upon demand, a written COVID-19 relaunch plan specific to your use. 
Compliance with Alberta Health guidelines by participants, user groups and the public are required to ensure we all support Alberta's efforts to prevent the spread of COVID-19. 
Rapid Response Plan
1. If a participant develops Covid-19 symptoms, the person will be directed immediately to go to the observation room overlooking the Aux. ice.  The contact number will be called for the person to be picked up immediately.  (booking group will need to provide)
2. 911 will be called if the situation is severe and medically distressed.
3. Arena staff will clean the area once the person has been removed from the building and will clean any touch points that may have been used.
4. Staff will spray the areas with disinfectant (Airx44).  Staff will require masks to wear while cleaning the room.
5. Facility will need to be informed of outcome.  
---
The Sportsplex features an Arena with two ice surfaces and a six sheet Curling facility.
Main ice surface (200' x 85') is used from approximately April to July for Lacrosse and from mid-August to March for ice rentals.
Auxiliary ice surface (180' x 85') is used from June to September for non-ice functions and from October to May for ice rentals.
Upstairs Concourse is also available for rentals, shows, meetings, and other functions.
Viewing areas for both ice surfaces are wheel-chair accessible.
In the news: How changing the lightbulbs spurred local sports tourism in Olds