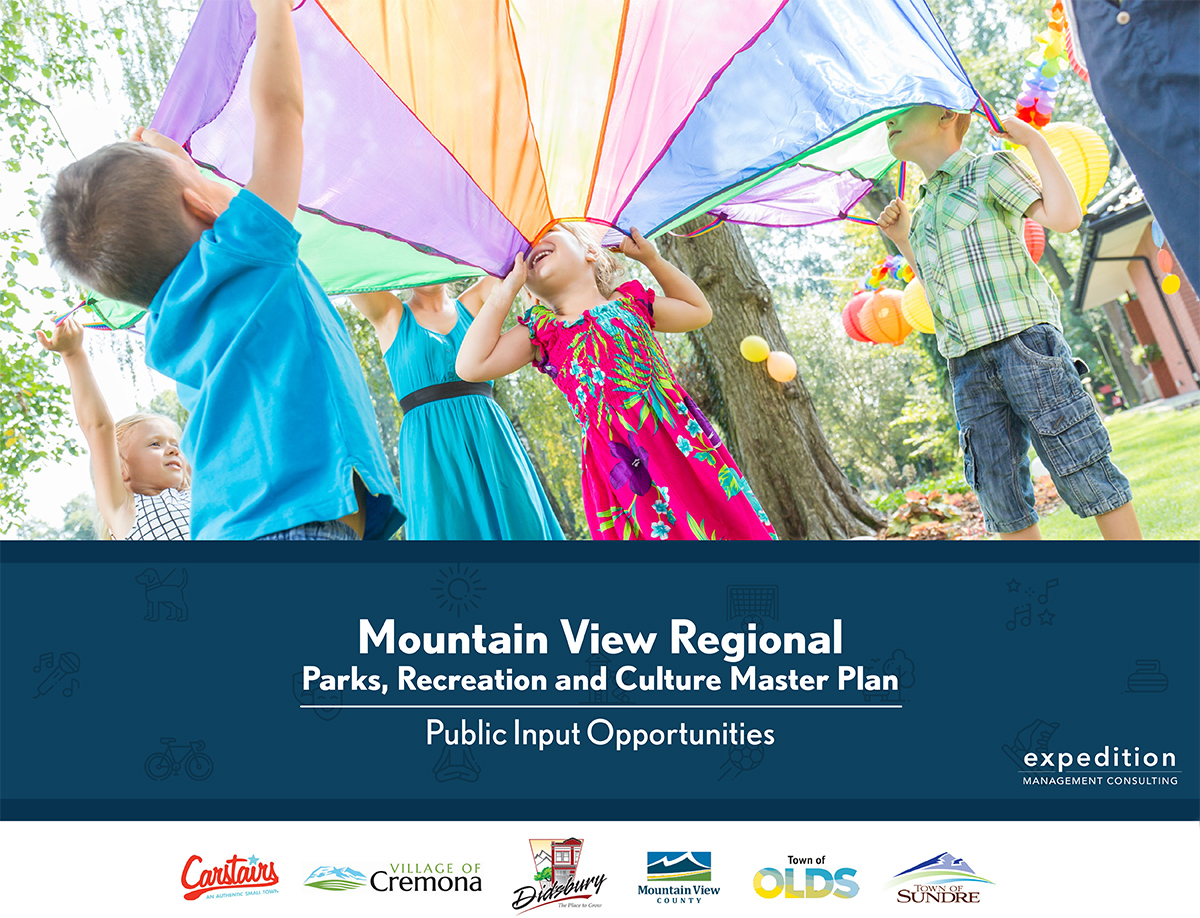 NOTE: This page is directed at the resident of Olds. Residents from other regional communities, can download the full Mountain View Regional Parks, Recreation and Culture Master Plan Brochure for localized information.
What is the purpose of the Master Plan?
The purpose of this project is to develop a regional parks, recreation, and culture master plan
for the Towns of Olds, Didsbury, Carstairs and Sundre, Village of Cremona, and Mountain
View County (known as the Municipal Partners). This plan will provide guidance to the
Municipal Partners in making decisions that best meet the needs of their residents. Facilities
and programming related to parks, recreation and culture will be the main focus of the plan.
When will the Master Plan be complete?
The project is scheduled to be completed in November, 2021. The Municipal partners have
engaged Expedition Management Consulting to complete the project. Expedition is an
expert parks, recreation, and culture planning firm. The full project timeline is described
in the graphic below.
How can residents give input?
There are several opportunities to provide your input toward the master plan. All residents in the Mountain View region are encouraged to participate.
Resident Survey
Survey participants will have an opportunity to enter into an early-bird draw (if you complete a survey by March 31st) and the final draw (if you complete a survey by April 30th). Each draw will be for a $100 local gift card of your choosing! 
To request a hard copy, contact your municipal representative.
Youth Survey
Survey participants  will have an opportunity to enter into a draw for a $100 local gift card of your choosing. 
Youth Digital Engagement Sessions
Digital engagement sessions will be hosted at schools in the region. Watch for a session to be advertised in your school in March and April.
Digital Engagement Sessions for Residents and Stakeholders
Digital public and stakeholder engagement sessions are scheduled to take place at select dates and times for each community. For the Town of Olds these sessions are scheduled for:
•    Thursday, April 14 from 2 pm – 3 pm, and from 6 pm – 7 pm
•    Register for the MVC resident and stakeholder sessions
*Residents and stakeholders are asked to register for a session no later than 24 hours before the session they wish to attend. Participants who RSVP will be provided with a link to access the online session, a phone number to call if they wish to participate by phone, and a copy of the presentation. The consultants will be contacting some stakeholder groups to complete one-on-one interviews.
Download the full Mountain View Regional Parks, Recreation and Culture Master Plan Brochure
Local Representative
Town of Olds
Doug Wagstaff, Director of Community Services
E: communityservices@olds.ca
P: 403.556.6981