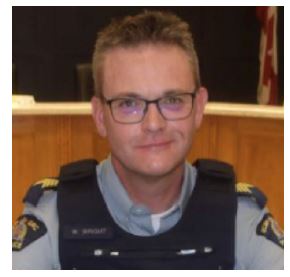 Town of Olds CAO, Michael Merritt is pleased to welcome S/Sgt. Warren Wright as Detachment Commander for the Olds RCMP. S/Sgt. Wright began his new role as the Olds Detachment Commander on June 28, 2021.
S/Sgt. Wright grew up in Olds, Alberta in the 70's and 80's and has since left and come back several times over his 28 year career in the RCMP. However, this is the first time he has actually been posted to the Olds Detachment having only worked in surrounding communities previously.
S/Sgt. Wright has had a very extensive career with postings in Pelly and Wollaston Lake, Saskatchewan prior to coming to Alberta. He has since worked in Lac La Biche, Calgary, Sundre, Didsbury, Fox Creek and most recently S/Sgt. Detachment Commander in High Prairie.
"I am very grateful for the opportunity to take over the Olds Detachment command from both Jim MacDonald and Jody Achtymichuk and I look forward to reintegrating back into the Olds community after a 6.5 year absence," said Wright.
Download the official news release
For more information:
Michael Merritt, Chief Administrative Officer
403.507.4800
mmerritt@olds.ca
www.olds.ca