Everyone mentioned on this page has been nominated by a neighbour as a great neighbour during our Great Neighbour Recognition Program July 5 - Aug. 31, 2021.   One awesome neighbour nominee was selected weekly from July 5 to Aug 31 for a backyard BBQ.
Susan and Ron, nominated by Cindy - July 7 BBQ winners
Being a single mom these 2 amazing people have helped me with everything from changing my battery, letting my dogs out when I can't make it home, fixing my lawn mower, being supportive and just being awesome. They are always willing to help anyone offer it willingly! Their boys are my favourite and always go out of their way to say hi and chat! They've been working extra hard through all of the last year and deserve not only my recognition but the BBQ! Love them to pieces! Best neighbours ever!
Sandy and Dave, nominated by  Melissa - July 15 BBQ winners
My neighbours are the best. They have helped me out more times than I can count. Helping fix things around my house, watching my kids, getting me groceries, driving me to work and my kids to daycare when my car broke down. Seriously the list goes on and on. I know that I can rely on them whenever I need something. They never say no. They are awesome, kind and seriously the best!!
Kari  was nominated by Jody - July 22 BBQ winner
My son and I moved in next door to Kari a year and a half ago and she has become
like family to us. I am a single (and only) parent of a very active 4 year old and she has embraced him, makes him feel loved and important every time she sees him, has helped with educational material to help him learn (she's a grade three teacher), and is always offering help. Kari has taken my son at times when I've needed a mental health break from parenting, I have limited supports and she has saved me a number of times! Kari is kind and she puts her all into her work and her small dog, Lola. She rarely gets the recognition she deserves as an amazing human, teacher, dog mom, and of course neighbour!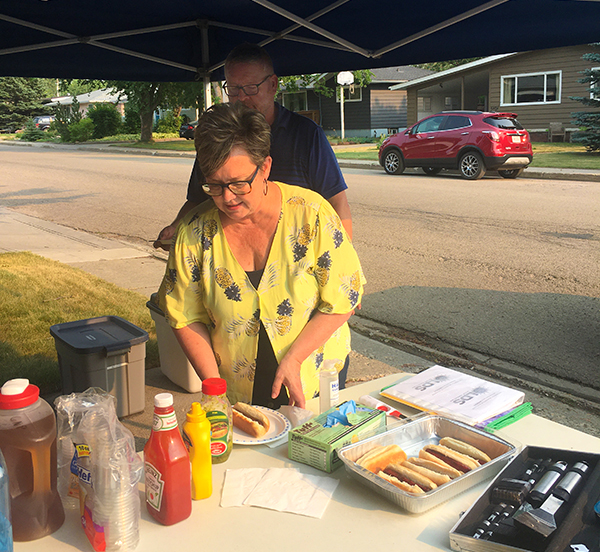 Cindy & Lloyd  were nominated by Mindy - July 26 BBQ winners
We have lived next door to this amazing family for the last 15years. They both are a big part of our community always giving back in any way that they can. If you have ever spoke with either of these two you would hear the compassion and feel their generosity, whether it be a moment of their time to talk or to help with you children. Both of them will go out of their way to help a person in need. I would love to see the town recognize this very special family. We are very lucky to have met them and especially to have them as or neighbours.
Kathy and Kevin were nominated by The Hammers
 Aug. 24 BBQ winners
Our neighbors go above and beyond to look out for us, whether its shoveling our walk, watching for packages left on our front step, or reminding us that it's garbage day! We feel so taken care of as their next door neighbour.
Crystal, Christine, Sheila, Roxie & Sandra - nominated anonymously
Aug. 26 BBQ winners
Crystal, Christine, Sheila Roxie & Sandra are wonderful neighbours. They are friendly and always so happy when they see us when we are out of our homes. They are always great for a conversation or a wave and a laugh. The past year and a half has been hard and they deserve to have a little celebration. 
Kathy and Wayne, nominated by Stephanie - Aug 31 BBQ winners
As a single mom with 2 girls, Wayne and Kathy have always looked out for us. Wayne is always mowing my lawn or shoveling my driveway in the winter. He will take my garbage out before I get a chance to pull it out. Kathy will bake desserts or share her veggies from her garden with us. They take the time to ask how we are doing, ask if there is anything we need or just to share a laugh on a hard day. They make time for us all the time.
Wayne and Kathy have never asked for anything in return, yet continue to give out of the kindness of their hearts.
I want them to be recognized for all they have done for my girls and me. Their kindness will not be forgotten.
Gerald  was nominated by Jim
Gerry is always looking out for everyone in the neighbourhood. If we are away, he can be counted on to shovel the sidewalk if it snows, and often he will shovel it even if we are home as well. It sometimes becomes a race to see who will get up the earliest to get it done. We can always rely on Gerry to help by rolling bins out or in from the curb for us if we are away and keeping an eye on the house for us. Gerry and his wife Margaret are the very best of neighbours.
Doug and Leanne were nominated by Neana
I recently had surgery and Leanne took me to my appointments in Calgary. They did my yard work, shopping and cooked meals.  Leanne is always checking on the other neighbors and bringing them vegetables and flowers that she has grown. It is such a joy to have neighbors like Doug and Leanne.
Larry and Laurel were nominated by Linda 
Larry and Laurel moved across the street from me about two and a half years ago, and not long after my husband had passed away. In July 2020 my elderly mother moved from long term care to stay with me. In November 2020, my eldest son passed away suddenly in a vehicle accident. Laurel along with other very kind people organized and prepared meals and delivered them several times a week for a month. In addition, Larry brought his snow blower over when some severe storms blew in over the winter. A few times I "caught" Laurel shoveling the walks in the evening. My Mom passed away in December 2020. Their kindness, support, and good-natured friendliness throughout all of this did so much to help our family through a very difficult time. I know that they are enthusiastic contributors to other causes in the community and other people needing support and kindness. It is an honor to nominate them as a great neighbour.
Jenny  was nominated by London
She is always there for me when I need her and a great friend and person overall! Jenny goes out of her way all the time to make sure everyone is happy and enjoying life. Her house makes me feel at home along with her family. I can't stress it enough of how amazing she is and what a wonderful person she is to know!
Cory and Heather l were nominated by Elizabeth
Cory and Heather are the best neighbours I have ever had! We have lived beside each other for about 6 years and we always say that if one of us ever moves we will have to find two houses for sale beside each other so we can be neighbours forever. They look after our pets and house when we are gone, mow our side of the shared grass, put out our garbage bins when we forget, and let us use their firepit whenever we want. They put packages inside our house if we are gone and generally just keep an eye on our place. I have borrowed ingredients from Heather when a trip to the store is inconvenient - her spice collection is extensive! They are always pleasant and willing to help with anything or just chat over the fence. A few years ago they had a little concert in their back yard and it was so fun. I can't wait for them to be able to do that again! They are THE BEST NEIGHBOURS!
John & Denise l were nominated by Barb 
John and Denise moved to Olds from Calgary a few years ago and it has been fun to help introduce them to small town living. They have always lived in the city before. John has commented on how he enjoys listening to the train pass by behind his house, hearing the coyotes howl, and just listening to the quietness of a rural community. It is nice to hear these comments from a newcomer, it makes you appreciate Olds even more than before.
Jason  was nominated by Charlie
He has been a committed volunteer within the Town for decades. Now as the Deputy Chief, he needs to be pampered and have some tube steaks shoved down his throat.
Please pick him, he deserves it!
Justin & Monica  were nominated by  Jennie 
Justin, Monica and their 3 kids have been our neighbours on Ash St. for about 15 years. I call her my "soup & egg neighbour" - if either of us is short an ingredient in the middle of cooking we call each other! There are times when she's not home and she says "just go in I think there's some in the cupboard!"
They put our garbage bin out on the street when we're away, they've shoveled our huge driveway when we've needed help. The neighbours beside them have health concerns - it's not unusual to see their whole family out there shoveling their neighbors driveway at 8am!
We both got a dog around the same time. Monica often pops by to say she's going to the dog park and takes our pup. Another neighbour down the street had their senior dog pass away - Monica offered the sweet lady to walk their dog any time she wants.
Justin has helped numerous times when we've had vehicle issues - doesn't hesitate to help out with his super-cool diagnostic tool!
They are just so incredibly kind and generous - the most down to earth and humble people to boot! I could go on and on...suffice it to say that we won the neighbour lottery with this family! We love them to bits!
John and Deana were nominated by Bob  & Peggy
They are always there helping out with anything that needs done. They are the best neighbours ever! 
They are always mowing our lawn or shoveling our snow. They always make a point of checking in on us if they haven't heard or see. Is in a day or two. They have picked up items for us at the store when needed. It is a very nice feeling knowing that they are next door if there was ever an emergency. It's truly like having family next door. We can't express enough how wonderful they are. They are truly the best people we know. We are so fortunate to have them in our lives.
Although they both work full time and are very busy with their own family. They mow our lawn shovel our walks and driveway trim our trees and help with anything that we need help with. Having them next door truly makes us feel secure as we know they are there for us They are definitely our extended family. We are so very blessed to have them as neighbours .
Jim  was nominated by Bill & Joyce
Jim did our grocery shopping for us when we had to quarantine for 14 days after returning to Canada from our winter in the U.S in March of 2020.  MY husband had a serious stroke ten months ago and Jim comes over and visits with him.  He also set up our DVD player when my husband couldn't remember how to do it.  He offered to set out our black bin for us two weeks ago when he found out we were not going to be home on collection day.  All in all, he's the best neighbour we've ever had.
Erwin  was nominated by  Doreen
Erwin never hesitates to help his neighbours all year, from shoveling their driveways or cutting their grass. He puts out the neighbours bins and brings those and other ones in. He has helped me with both garden and home repairs. He always has time for a chat and sharing events. My life has been enriched by meeting his wonderful extended family. 
Dianna and Darcy  were nominated by Kryslyn
Darcy and Dianna are just the best. They take our bins every Tuesday evening, water our flowers when we're away (without being asked), they look after our house and yard when we leave and grab our amazon packages just to make sure they're safe. We've lived beside them for 4 years now and they have just been fantastic the entire time.
We are very lucky! 
Chris and Donna  were anonymously nominated:
Chris always helps with spraying weeds without being asked. Donna brings baked goods for no reason.
Russ & April were nominated by Sandy & Darryl 
Our neighbours Russ & April have been such fantastic neighbours over the years. They're always more than willing to lend a hand with anything that we may need help with. For that and so many more reasons they would be very deserving of the "Great Neighbour" award…Thank you for your consideration of our nomination.
Ineke  nominates their neighbour on Valiant Crescent- They don't know their names yet.
He cuts our front law every week just because he wants to. He takes our trash bins and compost and recycle bin put and bring it back to side of house every week by himself since we moved in 3 months ago. They are a very very nice couple.
Glenn and Shelly  were nominated by Derek and Charlene
As a husband I am gone away to work 1 week at a time and our neighbours have ALWAYS stepped up to help out. They have done everything you can think of for us from cutting our grass to watching our children. We could not ask for anyone better to have next door to us!
Ron and Wendy  nominated by Jeff
They always put our bins out on the street. Wendy is like grandma to our kids, she gives ice cream treats daily. They both help with snow shoveling in the winter. They are always willing to help me out with wood working and giving ideas.
Roberick was nominated by George
Roberick is always there to give a helping hand. He is a great neighbour.
Roy & Carol  were nominated by  Mary-Anne
Roy and Carol are always there when needed. They are very considerate of being a neighbour. They keep their yard beautiful. They understand living in a neighbourhood means being considerate of noise that doesn't affect your enjoyment of your own property. 
Kym Fedyshen was nominated by Jody
Kym is a Great Neighbour! A great family and so friendly! 
Debby  was nominated by Barb
Debby is a great baker and frequently gifts us with some baking. She is always friendly and takes time to chat. We love to share plants and visit each others gardens. She is also a willing house checker when we are away!!
Matt and Laura  were nominated by Suzanne and Ryan
They are awesome people, neighbours and our landlord. They gave us a break and a chance when we really needed it a year and a half ago. They keep their house beautiful, they are friendly, genuine, nice, and unobtrusive people. They look out for us we watch out for them. We love our move to Olds and wish we could have done it sooner. Our son is graduating this year and we are so thankful he was able to be here with great friends. Please select them they deserve it. After a year and a half working from home they deserve it. Thank you. 
Wayne and Julie  were nominated anonymously.
Whether it is digging you out of deep snow or coming to your aid when the car has died, keeping in touch with the neighbours, keeping a beautiful yard. They are quiet, respectful and not nosy. 
Valerie  was nominated by Jody
She is always smiling and friendly! 
Lorna  was nominated by Joy
Lorna is always looking out for the neighbourhood. She connected us all on the street with a Facebook chat group and often checks in with neighbours we haven't seen in a while. Just this last week she organized an air conditioning company to offer discounted rate if a few people on the street got an install. Four houses ended up taking her up on it. 
Lee and Debbie were nominated by Debbie
Whenever we are working in the yard Lee will pop over to help. They sent over chili and buns to welcome new neighbours. When we get a snow fall Deb & Lee are out helping Mike and I shovel the close neighbours.
Dave  was nominated by Elizabeth
Dave drove me to the hospital in Red Deer several times a week when my husband was in the hospital for a month after his stroke. He wouldn't allow me to pay for gas. During the winter, he shovels our driveway when he notices that Tom hasn't done it yet.
Wendy and Wayne couldn't just pick one neighbour to nominate from their street.
They had to pick 4 great neighbours:  
Joe, Wanda, Lisha & Lachlan
Elena, Bordena & Roman
Brian & Doreen
Jamey & Karen
We moved here in June of 2015 and these are our great and fantastic neighbours that all deserve a shout out because they are the BEST!  All and any one of these neighbours would drive us anywhere, shop for us, leave food on the doorstep and ring the bell, cut our grass, shovel our snow or help us with other chores that we need help with.
Greg and Val were nominated by Dawn & Sheryl
Greg and Val are super friendly, always taking time to say hi and finding out how we are doing. They are always offering to help us out with yard work, snow clearing, even putting out the weekly bin. If ever we need a helping hand, they are there willingly. We enjoy our chats, sharing birthday cakes, baking, flowers, and gardening tips. Good neighbours are a blessing and we have been blessed.
Steve and Colleen were nominated by Dave & Joyce
This family has been there for us whenever we've needed their help. What really makes them stand out, though, is that they've been overly busy for over a year now with the COVID pandemic. Steve and Colleen are both nurses and they've been gone a lot. Their children have never been a problem while growing up; any backyard parties (prior to restrictions!) were reasonably quiet and never carried on into the wee morning hours.
John and Denise was nominated by Barb 
John and Denise moved to Olds from Calgary a few years ago and it has been fun to help introduce them to small town living. They have always lived in the city before. John has commented on how he enjoys listening to the train pass by behind his house, hearing the coyotes howl, and just listening to the quietness of a rural community. It is nice to hear these comments from a newcomer, it makes you appreciate Olds even more than before
Chris and Donna were nominated anonymously 
Chris always helps with spraying weeds without being asked. Donna brings baked goods for no reason.