Light Standard Replacement
Proline Power Corp, in conjunction with Fortis Alberta, is replacing light standards within the town and scheduled to complete work by the end of August. The Town's Operations Dept will be working with them to replace any signage that may be affected.
Capital Updates
Highway 27 & 70 Ave:
Concrete median completed October 13.
All concrete bases for signal lights are poured. Waiting on the concrete to cure before standing the steel.
All asphalt paving is completed.
Line Painting completed. 
Completion of install and powering on of the signals in final stages on Dec. 21.
Light Programming slated for Dec. 22.
Lights to be in flash mode for approximately 7 days. Northbound/southbound traffic will flash red while  Westbound/Eastbound will flash yellow.  
Project on budget, but slightly behind schedule. This is attributed to weather delays.
68th Street / Roundabout:
Roundabout opens Wednesday October 27, with opening the detour road will be closed.
Concrete on the roundabout is complete.
Asphalt Paving is completed in the roundabout
Traffic will be limited to only North and South directions in the roundabout until the street lights are installed. 
Roundabout will remain a construction zone until street lights are installed.
 This project is aimed to be complete by the second week of November. However if weather does not cooperate, final landscaping may likely be carried over into next spring is some landscaping. 
With a change in weather, there may also be the possibility that the west connection piece from the roundabout to 2A may not be completed entirely. It is our aim to have the connection graveled, but the concrete and paving to the west right of way may not occur until spring. 
Project is on budget. 
Ops Centre:
There are some odds and ends left to do such as landscaping and a bit of parking lot, but for all intents and purposes it is complete.
Moving into the facility has started - as time allows in a phased in manner.
In the process of cleaning up former buildings and sites in preparation for asset disposal/sale.
Project is on budget.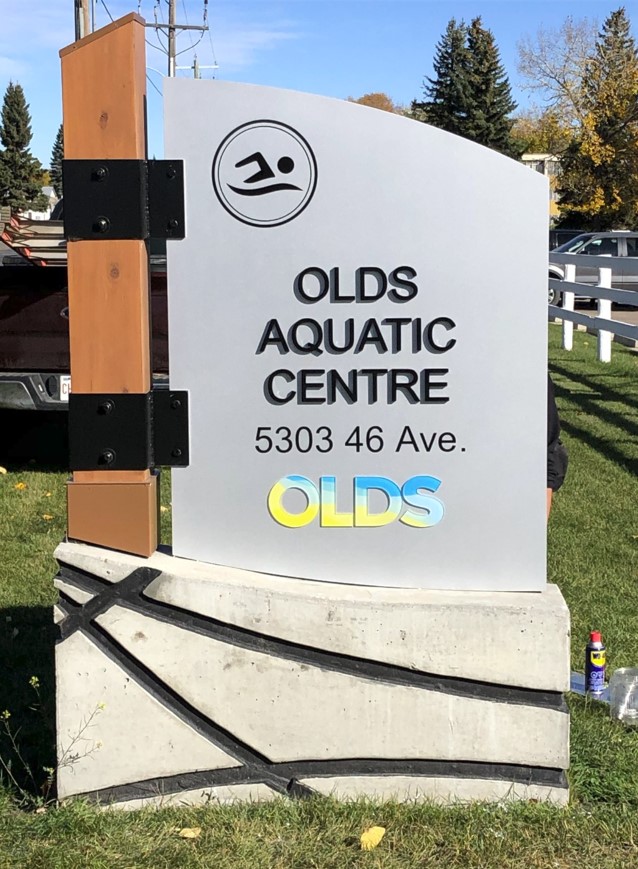 Wayfinding:
All 2021 implementation of signage is in place.
7 signs constructed this year: 6 vehicle, 1 civic identifier (Operations Centre).
 Corrections made to existing signs to fix the "ER' to "RE" for Centre have been done, see photo of Aquatics Centre on right.
North Reservoir Re-lining:
Completed under budget by approximately $20,000 (still to be finalized)
Completed ahead of schedule by 3 weeks
Sewer re-lining project (Year 2):
Contractor completed cleaning, information gathering, and inspection videos. 
 Install of liners in progress.
Streets impacted (Approx. 1.3km worth of line):
A section of Shannon Drive (from just west of Shannon Close to 43 St Close)
Shannon Close
A section of 55 Ave (44 ST to 43 ST)
49 Street (50 Ave to 52 Ave)
56 Street (49 Ave to 48 Ave)
49 Ave (one small section going north from 56 ST)
51 St (48 Ave to 47 Ave)
AC install in Evergreen Centre and Sump Pump replacement in Sportsplex
AC in Evergreen Centre installed July 21. 
Sump Pump replacement in Sportsplex scheduled for August 3-5
Ice making on Main begins July 23 
Ice will be in on Main August 6
Ice will be in on Auxiliary September 26
Sanitary Relining Program
Completed  July 9. 
See the Relining Locations Document
Waterline leak repair along Highway 27 west of 57 Ave 
Completed
One of the oldest remaining lines in town, originally a pipe from water well outside of town, 
Eventually this line with be abandoned, however it still feeds a few businesses, as development has occurred new/redeveloped lots have hooked into newer line
Valves installed to assist with line isolation when required
Hospital Parking Lot (NOT A TOWN PROJECT)
Began August 9, work underway to start to repair and resurface the hospital parking lots
Resurfacing work will be completed in phases in order to limit the impact to onsite parking as much as possible, however there will be some displacement of staff and visitors to the street during this work
Phase one will be complete by September, following which phase two will start immediately and be completed by December – weather permitting
Town has painted curb to reenforce highlighted no parking areas on street at entrance
Town has placed Construction Zone signs with 30 km/hr limits as a traffic calming measure for the duration of this project while parking is displaced to other areas outside of the AHS property