2022 Municipal Improvement Program
Laneway Development: 57 Ave behind Circle K -  Details
Mill and Overlay: 50 Ave north of HWY 27 to last acreage  - Details
Roadway Reconstruction: 52 St – 56 Ave to 53 Ave - Details
---
2022 Proposed Sanitary Lining Program
The following are proposed project locations that will be completed as the 2022 budget
allows, based on submitted pricing. This work is being completed to extend the life of sanitary
sewer mains which are mainly clay tile material pipes. The lining does not require any excavation to the roads or services as it is blown into the exiting main line and cured in place, which creates a seamless PVC product.
Residents should expect to see large trucks parked on the road that will cause lane closures, and will experience temporary sanitary sewer shutdowns (usually four hours). Notices will be provided to residents prior to loss of service.
Tentative Timeline:
Work is expected to begin Mid August and take approx. 1 month to complete. 
• 56 Street from 57 Ave. to 53 Ave
• 52 Street from 49 Ave. to 46 Ave (Hwy 2A)
• 52 Street West End
Update, Oct. 4, 2022: Project complete.
---
Rotary Athletic Park  &  Centennial Park Revitalization
The Town of Olds is excited to be receiving 50% funding (390K) for the Rotary Althetic Park of Olds/Centennial Park Revitalization through the Canada Community Revitalization Fund (CCRF). The other 50% of the funds will come from both the Town of Olds reserve fund and monies raised through Rotary Athletic Park of Olds fundraising initiatives.
Rotary Athletic Park of Olds
As part of this revitalization project, Rotary Athletic Park of Olds will be receiving an extremely important and needed Inclusive Playground for the Olds community.
Toboggan Hill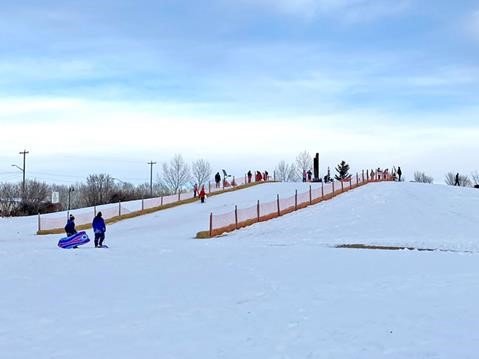 Construction began on a toboggan hill in July 2022, and this new facility will be ready for use this winter. The toboggan hill will be located on the east side of Rotary Athletic Park of Olds.
UPDATE, OCT. 4,  2022: Work is completed. 
Inclusive Playground
An inclusive playground provides engaging, fun spaces where everyone can play regardless of their abilities.
These play structures challenge the most active children while also providing enclosed areas for quiet and creative play.
The addition of this inclusive area will enable the Town of Olds to provide social infrastructure that will contribute to healthy, safe, and inclusive outcomes.
Update, Oct. 4, 2022: This project is in the design phase with work on the physical project being deferred to spring 2023.
Centennial Park
Permanent Outdoor Ice Rink & Pickle Ball Court Combination
Centennial Park will see the construction of a permanent outdoor rink to the east of the Skateboard park in the old horseshoe pits location.
The rink will be complete with players' boxes, permanent boards, lighting, and a concrete base which will be lined for Pickle Ball for the off season.
Plans are to have the permanent rink completed in late fall of 2022.
UPDATE, Nov. 30, 2022: Due to supply chain issue affecting parts neccessary to complete, the contractor on this project has has advised that there will be a delay in the opeing of the outdoor rink until into January 2023.
UPDATE, Jan. 16, 2023: The boards have been installed and the rink is ready for ice.  It's difficult to know when the ice will be ready with the current mild temperatures we are experiencing. watch this page for updates.